Independent Agents of KY is a 
Dave Ramsey Endorsed Local Provider
Endorsed Local Providers

 earn recommendations as Insurance Trusted Pros through their commitment to customer service and track record of success!

We are excited to announce that we have been chosen as a Dave Ramsey Endorsed Local Provider (ELP). As an Insurance Trusted Pro, we help people across the state find affordable and reliable insurance products from a variety of trusted carriers and are happy to be of service whenever you have questions or insurance needs.
What is the Endorsed Local Provider (ELP) Program?
Dave Ramsey, personal money-management expert and national radio talk show host, put together the Endorsed Local Provider Program so that he could introduce his listeners to a reliable network of professionals and help them with their financial goals. Companies in the Endorsed Local Provider Program have been identified as having the heart of a teacher. ELP's offer best-in-class customer service, are trustworthy, and are recognized as Insurance Trusted Pros.
What Qualifies Independent Agents of KY as an Endorsed Local Provider?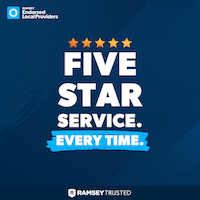 ELPs are held to a higher standard of excellence through a proven track record of prioritizing customer service in everything we do.
We help customers on all levels of Dave Ramsey's 7 Baby Steps and our performance is evaluated monthly to make sure you get the best agent possible. We offer trustworthy professionals, expert advice, and our customers regularly provide us with positive feedback and recognition.
Advantages of Doing Business with an Endorsed Local Provider
When you choose to do business with an Endorsed Local Provider, you are assured of working with an Insurance Trusted Pro that provides customer service that aligns perfectly with the high standards set by Dave Ramsey's ELP Program requirements.
Independent Agents of KY is an independent insurance agency, so we work for you, not the insurance carriers. That means we can help you find the best value on home insurance, auto insurance, business insurance, and much more from several of Kentucky's most trusted carriers.
We invite you to submit a free online quote request or call us at 502-459-8880 to review coverage options for auto, home, life, health, business, and more.

---
Need an insurance quote? Get in touch!
Access quotes from Kentucky's most trusted insurance carriers. It's comparison shopping at the click of a mouse.